Covid-19 pandemic has changed our behaviour, especially online. Social Media, mobile, digital have become an indispensable part of our daily life for people living around the world.
According to the Digital Report by We are Social, in partnership with Hootsuite, in 2020, while most of the world was in lockdown, social media users grew at the fastest rate in three years reaching 4.20 billion users.
Last year, we have listed Japan's top Social Media platforms for 2020. The article was previous the Covid-19 pandemic and Japan's state of emergency, called in April. Since then, Japan has embraced a rapid transformation toward digital, which is still deeply changing both Japanese people's behaviour and business scenario.
So, how is Japan's Digital and Social Media landscape changed? Which are Japan's top Social Media platform in 2021, especially for business?
Japan Digital Overview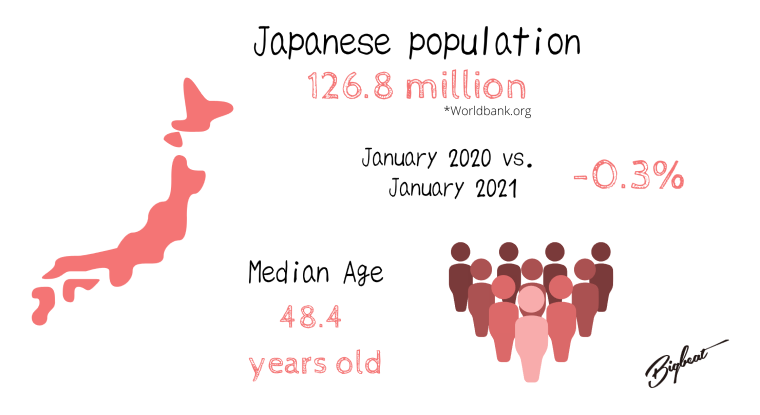 Japan is well known to being facing a rapidly aging population: Japan's population is shrinking reaching -0.3% compared to January 2020.
In a Country where the median age is 48.4 years and it is projected to increase year after year, Covid-19 has turned the digital landscape a lot. For instance, while in January 2020 the total Internet users as a percentage of total population were 92%, with an annual growth of -1.8% (-2.1 million users), in January 2021, one year after the first spread of the virus in Japan, the annual growth slightly increased at +0.8% (+890 thousand new users).
Especially mobile internet use quite differs compared to the pre-pandemic. Data states that the total number of mobile internet users reached 97.58 million (83.1% of the total internet users), as well as the time spent using mobile internet (1 hour 37 minutes per day).
In general, Japanese people spend daily around 4 hours and 25 minutes using the internet, 3 minutes more than the previous year.
On the other hand, the time spent watching TV is decreased, reaching 2 hours and 21 minutes.
This could be interesting if you are planning an advertising campaign in Japan and you are evaluating between TV commercials or digital advertising.
Social Media Overview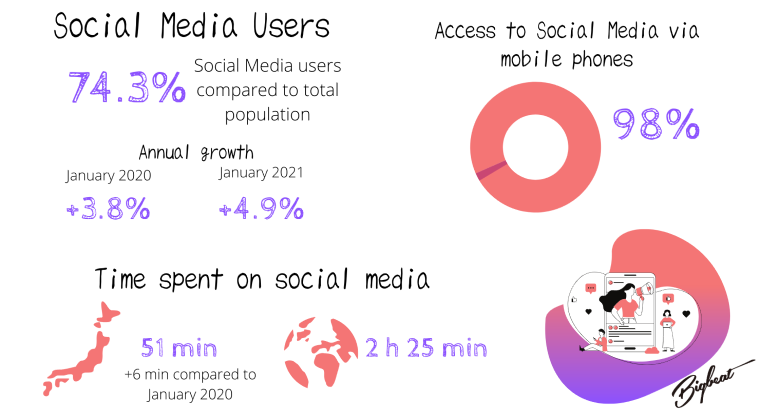 Back in April, when Japan called the state of emergency in order to stop the spread of Covid-19, Japanese people were forced to spend more time at home than before, as well as business have been forced to allow their employees work from home.
In this situation, people started to check and use more often their Social Media Channels.
At the beginning of 2021, 74.3% of the total population are Social Media users in Japan, which increased 4.9% compared to 2020. 98% of them access Social Media via mobile phones.
Regarding social media behavior, Japan is at one of the lower positions compared the global average.
For instance, the average amount of time spent on social media per day is just 51 minutes, far less than the global average (2 hours and 25 minutes); but is still increasing if compared to the previous year (45 minutes/day).

Also, while at the beginning of 2020 88% of users said to have visited or used Social media or messaging service in the past month, the percentage is increased at 93.4% in January 2021.
On the other hand, users that actively engage or contribute to them are still 80.7%, while the global average is around 90.2%.
If on one hand the pandemic has accelerated the digital transformation of Japan and business have been forced to switch over digital, Japanese internet users who use Social Media for work purposes are only 16.7%. It is surely increased compared to the previous year (15%), but still very low compared to the global average (40.4%).
The most-used Social Media Platforms
In our previous post about Social Media platform in 2020, we have listed up the most-used social media channels. Is the situation changed in 2021?

As you can see from the graph above, as in 2020, the most-used social media platform in Japan is Youtube, with 74.3% of the Internet users. It is followed by LINE, which is also the most downloaded mobile app in Japan, Twitter, Instagram and Facebook.
LinkedIn is slightly gaining position (3,2% of Internet users compared to 3% of the previous year), but, in B2B, Facebook is still the preferred Social Media for business.
Facebook in Japan: the leader for business networking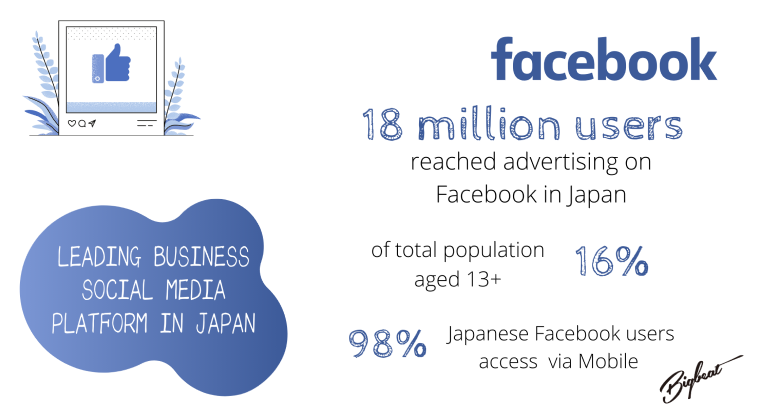 18 million users can be reached advertising on Facebook in Japan, around 16% of the total population aged +13. And the reach is projected to increase quarter by quarter, especially in this period: compared to January 2020, this year the advertising reach is +5.9%, indeed.
If you are planning a Facebook ads campaign, remember to curate your responsive adv design: 98% of the Japanese Facebook users access to the American Social Network via Mobile!
In terms of engagement, Japanese are quite shy and do not engage very much with posts. For instance, a Facebook advertisement is likely to get in average 6 clicks (9 by female users and 5 by male). Especially, comments and shares are very sporadic, as well as likes on pages.
Nevertheless, also this year, Facebook is the leader Social Media in business, and it is a useful tool for networking with potential partners or clients, as well as to communicate with your brand fans.
LinkedIn: privacy and low-self disclosure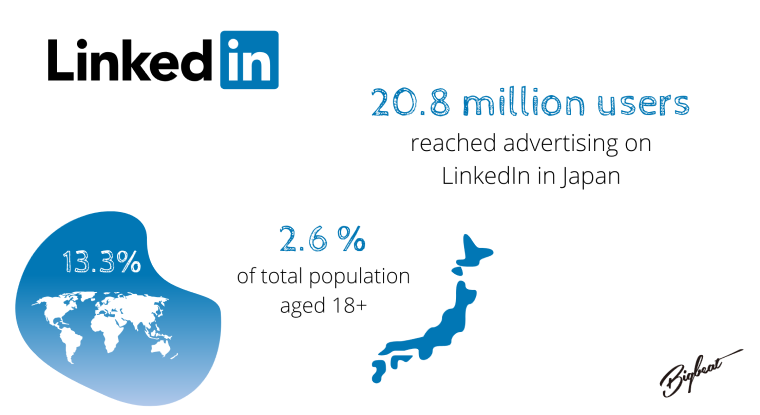 Contrary to overseas, LinkedIn is not a very used Social Media in business in Japan.
At the beginning of 2021, the potential audience that marketers can reach advertising on LinkedIn is around 2.80 million, 2.6% of the total population aged 18+.
Even though the growth rate is increasing quarter by quarter (+3.7% each quarter), Japan still stands at the lowest position in the global ranking.
The main reason behind this is cultural. Japanese people are not so open to showing their personal life/personal views and opinions on social media for cultural reasons. Personal privacy and low self-disclosure are of utmost importance in Japan and for a Social Media platform like LinkedIn, based on your own resume and your personal working information, it is not a good starting point.
Twitter: the second dominant Social Media Platform in Japan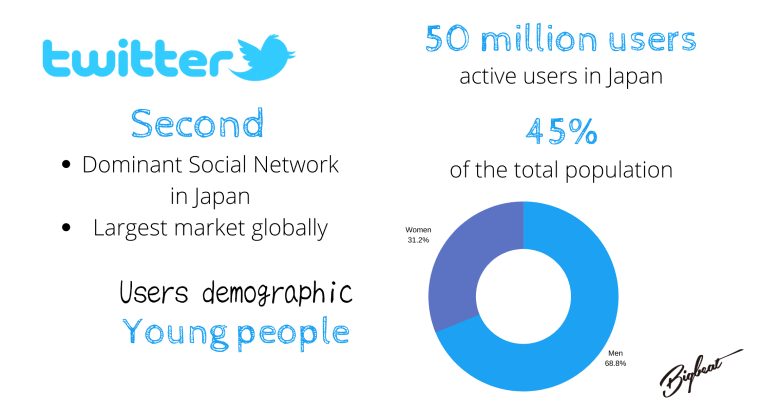 Japan is Twitter's second largest market globally, behind the US and followed by the India.
With over 50 million users, 45% of the total population, and both used in private and business, Twitter is the second dominant Social Media platform in Japan, after YouTube.
Data tells that the most reachable users are men (68.8%) than women (31.2%), but still quite young. According to the report by Japan's Minister of Internal Affairs and Communication, 76.1% of the total users of Twitter are in their 20s, while 66.7% are in their teens. Probably it is not good news for B2B companies who were evaluating to advertise on this Social Media.

Nevertheless, anonymity is the strong point of Twitter, and it ensures tons of Tweets every day, showing true feelings and opinion towards brands, products and services. This is a good point for marketers who wants to measure social and brand listening.
Instagram: the visual Social Media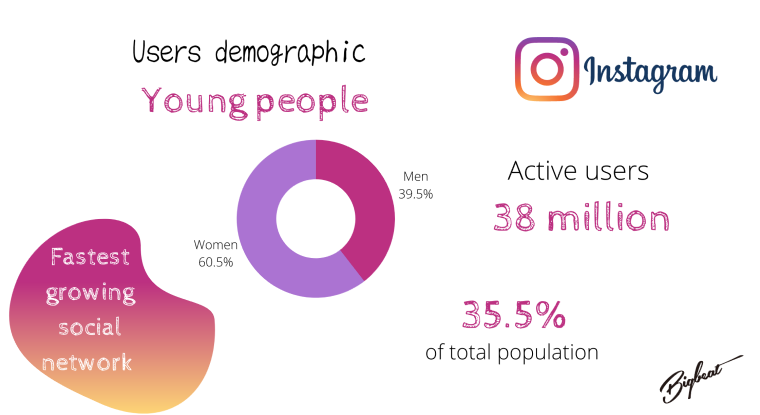 With over 1 billion of active users all over the world, Instagram has the 4th-most used app in the World, after Facebook, WhatsApp and Facebook Messenger, still part of the Mark Zuckerberg's family.
In Japan, Instagram is continuously growing at a rapid pace, and active users has reached 35.5% of users in Japan.
Being a visual Social Media, over 60% of women are active on this platform, and men are just 30% of the total users, decreasing compared to the previous year (44.8%). Also, Instagram's audience is quite young, and the average user is around 20 years old.

Instagram's advertising reach is growing every quarter, registering +2.7% growth, for a total of 33.7% at the beginning of 2021. However, the trend is projected to slow down in the next years.
As in the previous year, fashion and food are undisputedly the most popular content type among Japanese instagrammers, and these to industries are particularly suitable for visual storytelling. On the other hand, B2B visual product or service, may not find very good popularity on this platform, even if Facebook is pushing SME from every industry to promote their products and/or services on this platform and use the e-commerce tool introduced some time ago.
Youtube: the most used Social Media in Japan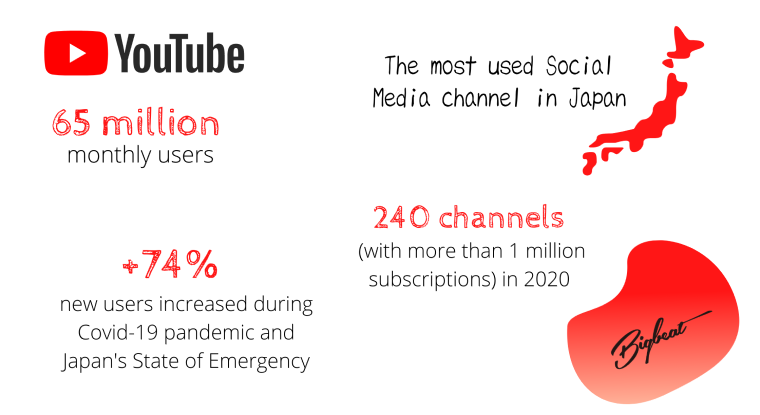 Youtube is the most used Social Media channel in Japan.
Counting over 65 million monthly users aged 18-64 and an average of 240 channels (with more than 1 million subscriptions) in 2020, the Google's video platform is projected to increase in the next years. For instance, only in Japan, after the spread of Covid-19 and the consequent State of Emergency, Youtube's users are increased 74%, 3 times the other platforms' new users.
Especially during Covid-19 pandemic, Japanese people watching training workouts or food-related videos have grown respectively 400% and 450% up.
Not only B2C or leisure videos though. With the suspension or postponement of many business events or trade shows, as well as the teleworking, many people has started watching YouTube videos to obtain business information. Videos are easier to be understood and faster than reading difficult text full of specialized words. For sure, they are a means which cannot be left out your marketing strategy in 2021.

When it comes about advertising, B2B ads on YouTube are not very frequent in Japan. However, Japan is still at 6th Country in the world with the largest YouTube advertising audiences. In detail, the potential audience that you can reach using advertising on this Social Media is over 93 billion people, 79% of total population aged 18+.
There is another interesting thing you should keep in mind: YouTube' audience is quite uniform in Japan, so you can reach almost any age group with you campaign.
Summing up, YouTube is a very potential and interesting Social Media which worth to be keep under control and evaluated for your digital marketing strategy here.
LINE: more than a messenger app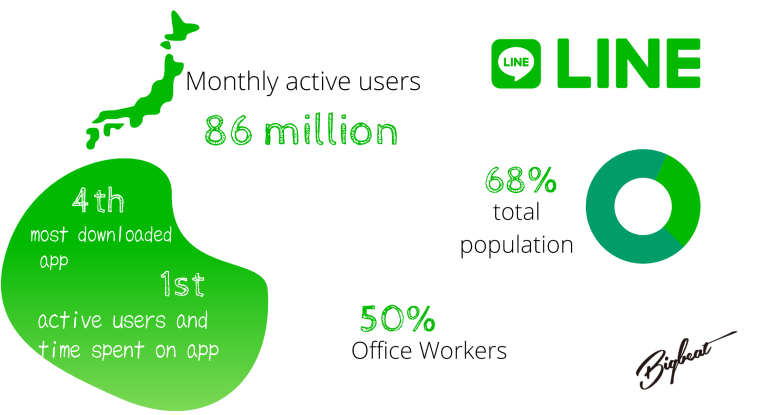 Many of you may probably have never heard about LINE before. It is more of a messenger app then a social media platform, but it surely worth a mention here.
Made in Japan, LINE has over than 86 million monthly active users, more than 68% of Japan's total population and is the 1st mobile app in terms of monthly active users and time spent on app. It is also the 4th most downloaded app in Japan, after COCOA (Covid-19 Contact App by Japan's Ministry of Health, Labour and Welfare), Zoom Cloud Meetings and PayPay (cashless pay app by Softbank).
LINE is mostly used by female (53%; males are 47%) users and the age average is 20s (98.1%), followed by 30s (93.4%) and 40s people (87.7%). It is also important to stress that almost the half of the total users are Office Workers, followed by part-timers and homemakers.
LINE's vision is to become a "life infrastructure" for users, providing them all the service they need. For this reason, LINE consists in a wide range of features: starting from the messenger app, it also has a social media feature (Timeline, similar to Facebook feed), news section, a cashless pay feature, game feature and so on.
In addition, LINE provides Official Accounts for companies who can contact users though messages, send to them coupons or even loyalty cards.
Also, on LINE companies with an Official Account can advertise. This service is freemium and it could work quite well with B2C industries, especially related to food, fashion, automobile, beauty. We do not suggest B2B brands to invest money for advertising campaigns here. At least for now.
It is certain that LINE is trying to deepen the business field. In fact, it has recently release LINE Works, a cloud business management tool, where people in the same company can chat, managed their schedule, exchanging files and so on.
Chat Tools in Business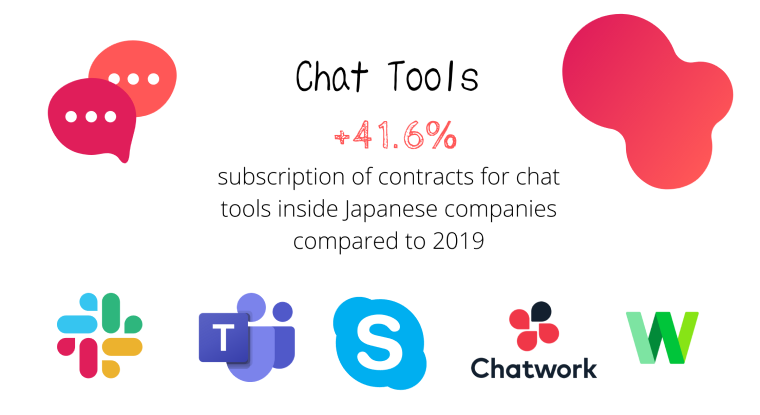 Speaking about chat tools for business, the State of Emergency has forces companies to allow their employees work from home and pushed them to opt for communication tools smarter and agile than emails or phone calls.
According to Nikkei, the subscription of contracts for chat tools inside Japanese companies in 2020 is increased 41.6% compared to 2019. Also, this trend is projected to constantly increase +21.9% till 2024.
Slack, Teams, Skype are just the most famous services used, flanked by Japanese tools such as Chatwork or the above-mentioned LINE WORK, part of LINE suite.
Clubhouse: the newest Social Media Platform
It is the most talked-about Social Media at the moment. Released in early 2021 in Japan, Clubhouse has rapidly exploded gaining million of users in just few weeks, especially the youngest.
Clubhouse is an invitation-only audio-chat social network where people can organize virtual chat rooms where you can speak about diverse topics, also about Marketing or Japan business. Nevertheless, currently it seems no businesses are using it as a community marketing tool or communication tool with the fans. In fact, on Clubhouse it is not possible to save the chat or the recording. When the room is over, the chat is also gone. For this reason, from a marketing point of view, it is difficult to set KPI and metrics and based a communication strategy on this platform. At least for now.