TOKYO – U.S. sanctions against Huawei Technologies, which came into effect on Tuesday, have forced Japanese chipmakers to widen their nets to fill the void left by lost sales to China's largest telecommunications equipment supplier.
The US Department of Commerce has banned all exports to the Chinese telecommunications company of semiconductors made with US technology, exempting only shipments already en route. Japanese companies supplied about 1.1 trillion yen ($ 10.4 billion) in parts to Huawei last year, according to British research firm Omdia.
That ban was the main reason Sony last month slashed its capital spending plans for the three years up to fiscal 2020 by around $ 470 million. The Japanese company makes billions of dollars a year from sales of image sensors to Huawei, which were completely halted on Tuesday.
Read also – GM to make electric vehicle, supply batteries for Nikola
Sony is considering applying for a license to sell to Huawei. But "we have to work on the diversification of our customers," said a company executive.
One opportunity lies in selling to smartphone makers, including Apple and Chinese players, who are positioned to eat away at Huawei's market share if the ban forces the company to cut production. Sony is also looking to develop sensors for a wider range of applications, including automobiles and industrial machinery, rather than relying so much on mobile devices.
Renesas Electronics on Tuesday stopped supplying Huawei with semiconductors for base stations in the 5G network. Meanwhile, the Japanese chipmaker is stepping up its marketing to competing base station makers, such as Sweden's Ericsson and Finland-based Nokia.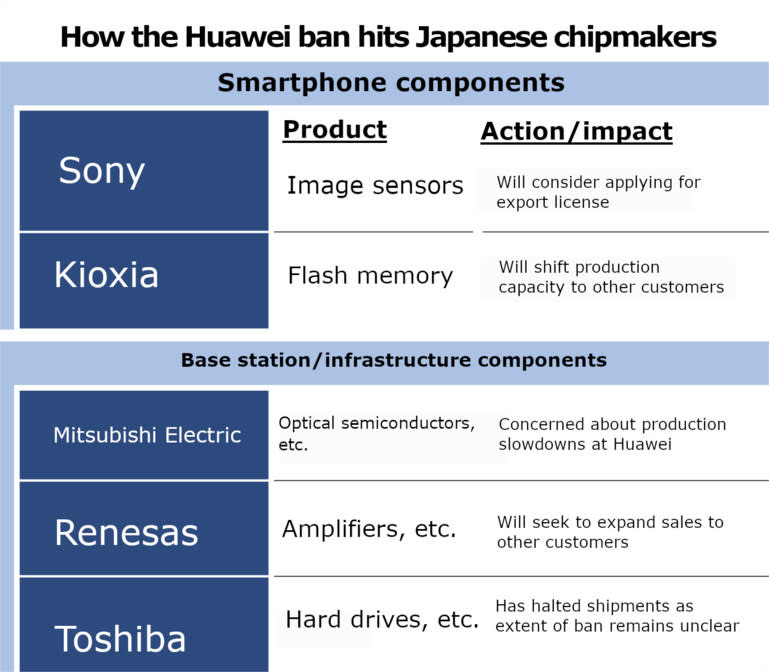 Toshiba spin-off Kioxia suspended flash memory shipments to Huawei on Tuesday. The company plans to reuse capacity that would otherwise go unused by the ban on producing chips for other smartphone makers and for data centers.
The drastic nature of the sanctions poses problems of compliance. Even supplying the chips to a third party could violate US export regulations if the products in question were ultimately used by Huawei. Jeff Wang, president of the Tokyo-based Huawei Japan subsidiary, stressed last month "Japan's extremely important role in global supply chains."
Businesses are forced to scrutinize the routes their parties take to avoid potentially risky transactions, and getting the full picture will take time.
Read also – Honda, General Motors sign deal to work on vehicles together
Toshiba temporarily suspended all shipments of hard drives and chips on Tuesday, citing the need to determine whether any of its products were covered by the ban.
Any company that violates the sanctions will be prohibited from importing US software and technology covered by export regulations, whether from the United States or from third countries. The rules cover so many products that such a ban would be a major barrier to manufacturing and marketing.
Violators can face other penalties on top of that, including fines of up to $ 1 million and jail time, as well as the reputational risk associated with violating US regulations.
"We also need to be careful about our investment plans starting in fiscal 2021," said a Sony executive concerned about the drag of the Huawei line.
As for Huawei, production is not expected to be affected right away, as the company rushed to source parts before the sanctions took effect. The spot price of DRAM chips – vital for smartphone production – has jumped 7% since the start of the month, which a representative from a semiconductor trading company attributed to a latest rush. purchase by Huawei.
But the company's smartphone shipments are expected to fall 70% in 2021 from the total projected for this year, according to one estimate. DRAM prices "will drop around mid-September as [Huawei] stop building up its inventories, "Akira Minamikawa told Omdia.