The Reliance Jio video conferencing app JioMeet has been available across Android, iOS, Windows, macOS, and web since Thursday evening after beta testing.
Earlier today, Reliance Jio was in the news because of the launch of their new app called JioMeet. It's essentially Jio's take on teleconferencing and they're going head-to-head with Zoom, Google Meet, and others here. But as soon as the app went live, people started downloading it and noticed something weird.
Yes, the JioMeet app looks like an exact copy of the Zoom app. Here, check it out –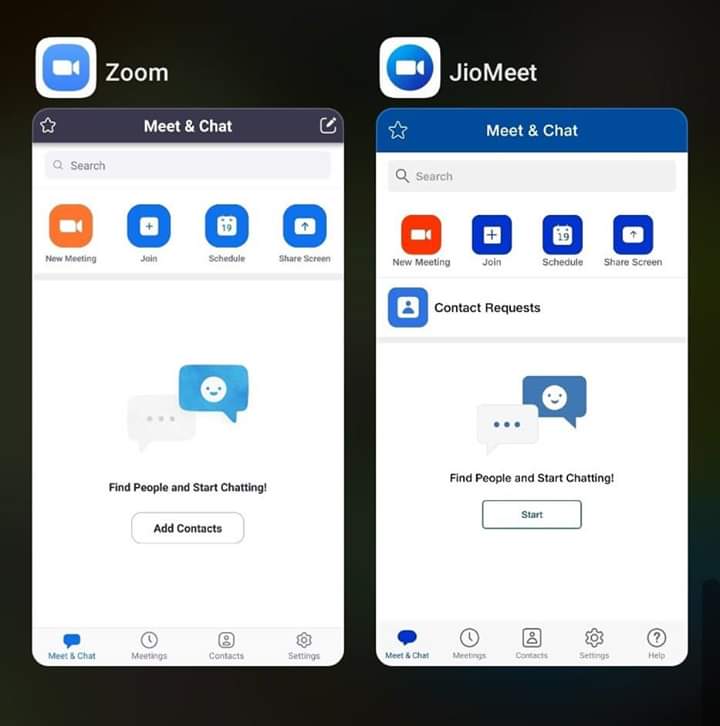 Jio Meet, Reliance's homegrown video conferencing app that can support the conferencing for a hundred users at once, has started to gain the ground with over 100,000 downloads on Google Play Store already in less than 24 hours of the app going live.
Jio Platforms, which began beta testing JioMeet in May this year, said the video conferencing service offers "enterprise-grade" host controls. These include: password protection on each call, multi-device login support (up to five devices), and ability to share screen and collaborate.
Other features include the ability to switch "seemingly" from one device to another, and a 'Safe Driving Mode' for when a participant is in commute. Hosts can also enable a 'waiting room' to ensure participants have to ask for permission to enter a call.
The app, which has already seen more than five lakh downloads on the Google Play Store and iOS, comes amid the government imposing a ban on 59 popular Chinese apps, including TikTok, on grounds that they threatened national security and data privacy.
The company did not provide any more details, including whether people outside of India could use the service. On its website, JioMeet claims all the meetings are "encrypted" but does not elaborate whether these calls are end-to-end encrypted.
The launch of JioMeet today comes as tens of millions of people in India are working from home and using video conferencing services for work and to stay in touch with friends.