The Indian government on Monday evening said it was banning 59 apps developed by Chinese firms over concerns that these apps were engaging in activities that threatened "national security and defence of India, which ultimately impinges upon the sovereignty and integrity of India" in what is the latest standoff between the world's two most populated nations.
App that including very popular ones like the short video platform TikTok, UC Browser, file sharing app ShareIt, and CamScanner, which allows iOS and Android devices to be used as image and document scanners.
Read also – TikTok app violating children's privacy
The government has banned these invoking its power under section 69A of the Information Technology Act read with the relevant provisions of the Information Technology (Procedure and Safeguards for Blocking of Access of Information by Public) Rules 2009, it said in a statement.
This could come as a major blow to China's Digital Silk Route ambitions, eroding millions of dollars from valuation of its companies. This could also lead to more countries following India's path in acting against these Apps.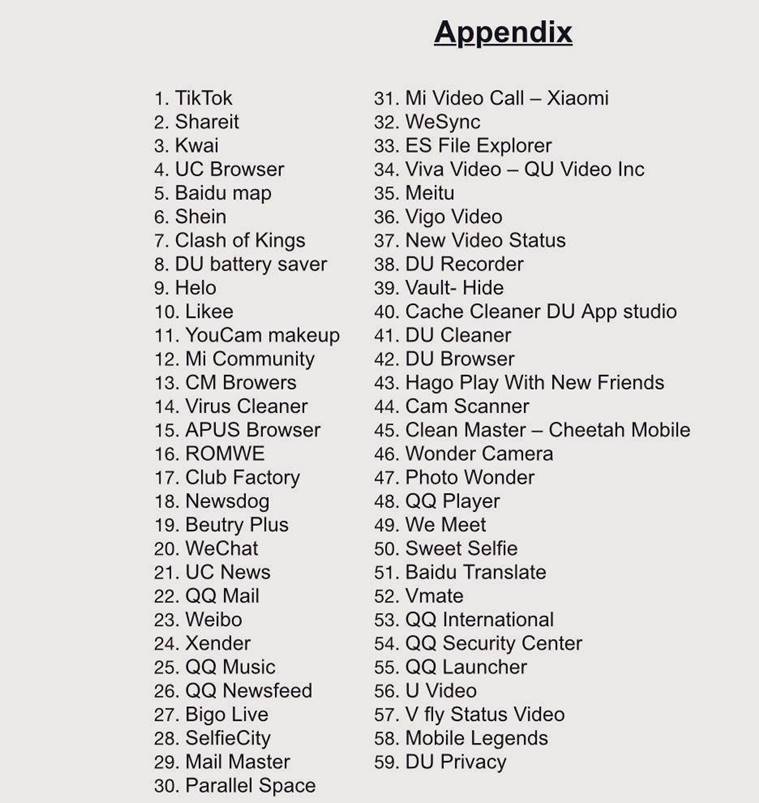 The notification is expected to be followed by instructions to Internet service providers to block these apps. Users are likely to soon see a message saying access to the apps has been restricted on the request of the government.
However, while this will impact apps like TikTok and UC News that need a live feed to serve any purpose, users might still be able to continue using apps that don't need an active Internet connection to be used. But further downloads of these apps, like CamScanner, are likely to be blocked on Google's Play Store and Apple's App Store.
Some apps on the banned list are very popular in India, especially TikTok, which has over 100 million active users in the country, mainly in the heartland. New social media platforms like Helo and Likee, as well as video chat app Bigo Live are immensely popular among Indians who are not comfortable in English. These users will have to look for substitutes.
Read also – ByteDance owner of TikTok moves to shift power out of China
Also, most of these platforms have Indian creators, for many of whom this is the only source of income. Many of these apps have offices and employees in India, and a few thousand jobs could be at stake.
TikTok was banned in India on the order of the Madras High Court for a few days last year, but it came back soon after the court vacated the ban. This action, however, is more sweeping, impacts more apps, and has been taken in a specific strategic and national security context. It could be a warning to bigger Chinese businesses in India, and to China itself.