The current situation of corona virus cases in Japan is improving every day. More than 75% of total COVID-19 patients have fully recovered from the virus, according to Covid-19 Report , marking a new milestone in the first wave of the country's outbreak.

Infections in Japan: 16,424(as of 21:00 on May 22, 2020)
| | |
| --- | --- |
| Total Infected in Japan | 16387 |
| Total | 16387 |
| Deaths | 807 |
| Recoveries | 12815(78 % of total) |
The government lifts the state of emergency in Osaka, Kyoto, and Hyōgo Prefectures. It will make a further decision on May 25 about lifting it in the remaining prefectures of Tokyo, Saitama, Chiba, Kanagawa, and Hokkaidō. With 59 cases over the past seven days, Tokyo has achieved the target of 70 or below for the first time.
Read Japan to ease state of emergency in Osaka, Kyoto, Hyogo prefectures
Tokyo announces that 58 cases were unreported, 6 were reported twice, and 5 negative cases were wrongly reported as positive. This adds 47 to its cumulative total. With the 11 new cases for the day, Tokyo's overall figure rises to 5,133.
Statistics from Johns Hopkins University show that there are now more than 5 million cases worldwide. With 1.6 million, the United States accounts for 30% of these. While the pace of growth has dropped in many European countries that saw rapid increases from March to April, Russia and Brazil have experienced explosive increases since mid-April, with both now having around 300,000 cases. Peru and Mexico are also seeing rapid increases, as Latin America is becoming a new epicenter of the pandemic.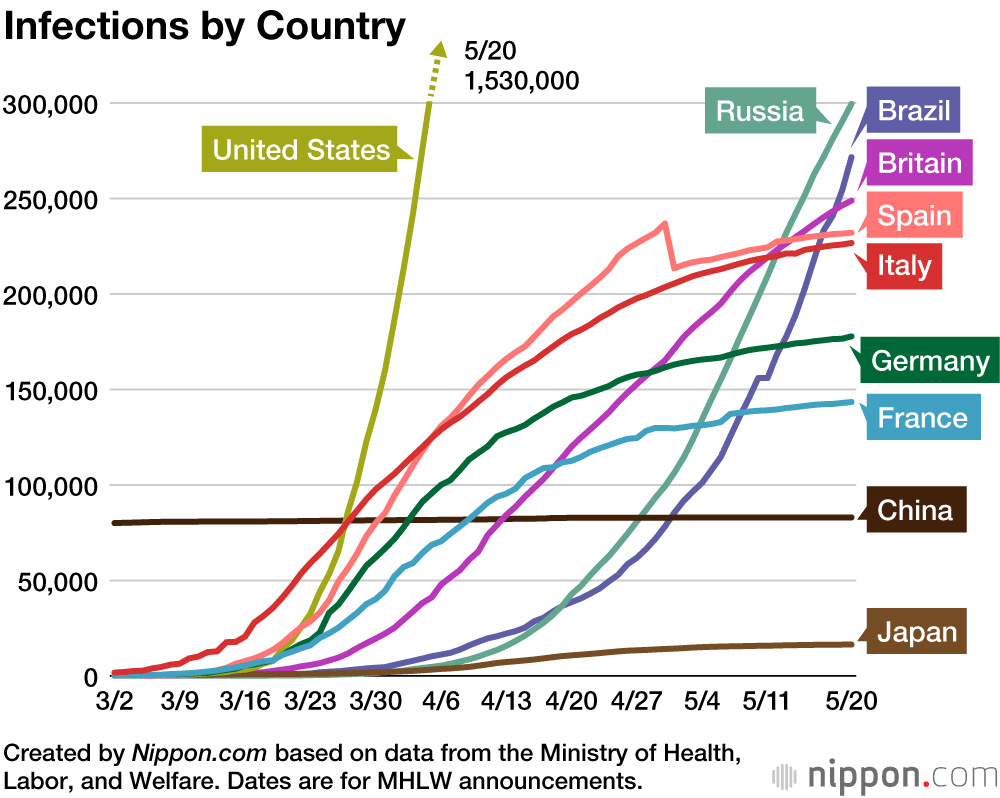 "It's not time to pat ourselves on the back and say job well done, but we really are doing better than most others in the world."​